Place Over Profit
Where you put your money means something. When you join Gather FCU, you're putting your money back into Kaua'i and investing in the lives of your family, neighbors and friends. Back into what really matters.
At Gather, Kaua'i comes first. We're building homes right here, and nurturing our island's small businesses. We're creating an opportunity for our members through scholarships and retirement plans. We're strengthening our community, fostering a place for growing families and big ideas.

When you put place and people first, good things happen.
20th Annual Charity Golf Tournament
It's the platinum anniversary of the Gather FCU Annual Charity Golf Tournament benefiting Wilcox Hospital's Emergency Department and Trauma Center via the Kapi'olani Children's Miracle Network. For 20 years, we've hosted this fundraiser with the help of our sponsors and golfers. We especially want to thank our matching donor and title sponsor, CO-OP
®
Financial Services, for its Miracle Match of $10,000.
The September 7th tournament at Puakea Golf Club helped us meet our fundraising goal and we're excited to announce that $50,000 will be donated in the name of Gather FCU and our members. We're always about people helping people and this is a big way we're doing just that.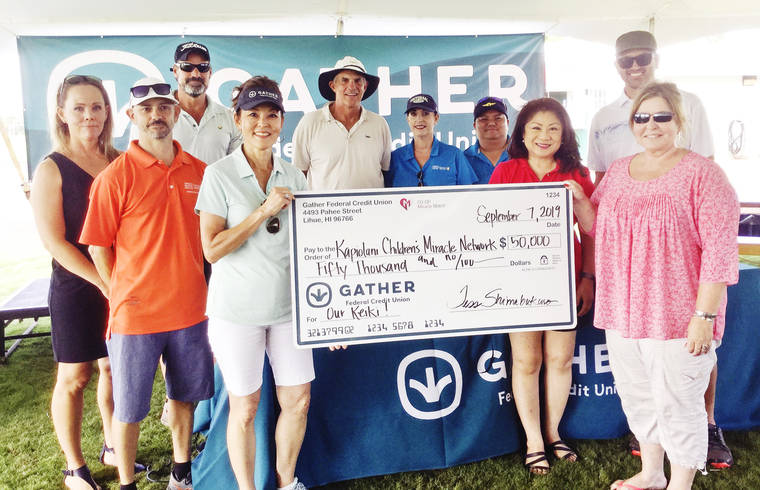 Back to School Bash
The 5th Annual Back to School Bash took place at the Kukui Grove Shopping Center. This year, volunteers from Kauai's Credit Unions and other organizations packed over 1,700 bags of school supplies to give away at the event. This community event is sponsored by over 20 businesses island wide and is aimed at providing much needed school supplies to students and their families at no cost. Along with school supplies, families attending the free event were treated to prize giveaways, live entertainment, keiki and youth resources, a health fair, and even free books!
Building Savers
In May of 2019, after an inquiry from our employees about a field trip for their children's pre-school class, the Building Savers Field Trip was created.
The field trip starts with some "fun" financial literacy exercises, followed by a trip through the teller line where every child gets to make a deposit. Then the entire class was given a tour of the Kukui Grove Branch as an interactive treasure hunt! 
The field trip is aimed at learning and forming positive connections to money which in turn, forms good savings habits.