Reality Fair Returns
After a brief hiatus, the Reality Fair has returned!
This year's first fair was hosted for Waimea High School's Junior class. The Reality Fair is an interactive Financial education experience for students. The fair provides a hands-on experience in which students chose an occupation, receive a monthly salary while paying for basics like transportation, housing, and health care.
Mahalo to all of our volunteers who took time out of their busy schedules to take part in building a better future for our keiki!

2023 Charity Walk

---
Ho'omaika'i Halau Ka Lei Mokihana o Leina'ala
In the Spirit of Giving
Doing good for each other, and for the home we share—that's what community is all about. People helping people isn't just a saying at Gather FCU, it's how we truly act every day. Beyond offering banking services that make our members' lives better, we also offer insights and solutions to create overall financial well-being. The other side of that coin is being active and giving back to our island home, so that everyone benefits from a stronger community.
Mahalo to all who contributed to the 2022 Kaua'i's CU's Food Drive. The annual event brings together Gather FCU and other Kaua'i credit unions to raise funds for the Kaua'i Independent Food Bank. Those funds help purchase and distribute food for our kupuna and keiki and others in need during the holiday season. The 2022 drive raised over $11,000. Thanks again to all who participated!
Thank you to everyone who supported our keiki toy drive. KHON's statewide Laulima Giving Day was hosted at the Lihue Walmart on Saturday, December 3rd by Wake Up2Day's Chris Latronic, TV host and comedian Tony Silva and KONG radio host Ron Wiley. Volunteers from Gather FCU and Keiki O Ka Aina collected the donations from the generous community. The Laulima Day toy drive received over $1,500 in cash donations and over 175 toys. The donations are benefiting families from three Kaua'i local nonprofits—Keiki O Ka Aina, YWCA and Child & Family Services (Nana's House). Big Mahalo to the Kaua'i community for your amazing generosity and kokua in bringing Christmas cheer to the families of these organizations.

---
Cyndi Ayonon and Edie Ignacio Neumiller of the Zonta Club of Kaua'i accept a $500 contribution to the club's Christmas Fund from Gather Federal Credit Union.
Photo Courtesy of Dennis Fujimoto of The Garden Island Newspaper

---
23rd Annual Charity Golf Tournament
The Gather FCU Annual Charity Golf Tournament benefiting the Wilcox Health Foundation for Pediatric Services via the Kapi'olani Children's Miracle Network, hosted its 23rd tournament this year. For 23 years, Gather FCU hosted this fundraiser with the help of our sponsors and golfers. We especially want to thank our matching donor and title sponsor, CO-OP® Financial Services, for its Miracle Match of $10,000.
The 23rd Annual Charity Golf tournament at Puakea Golf Course helped us meet our fundraising goal and we're excited to announce that $45,000 will be donated in the name of Gather FCU and our members. We're always about people helping people and this is a big way we're doing just that.
For a full list of our sponsors, click here.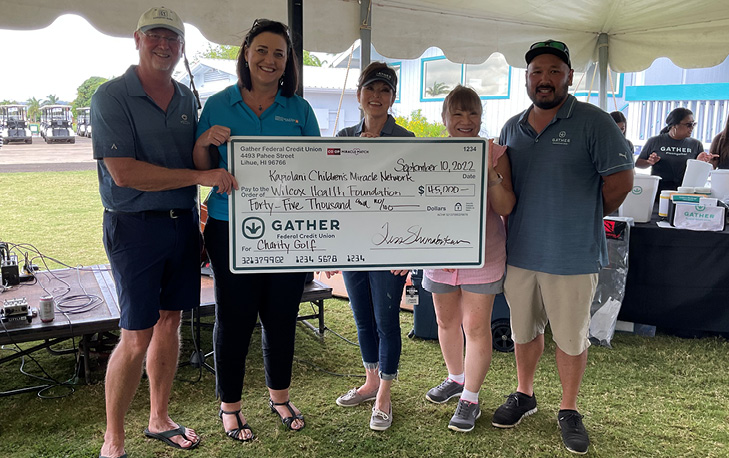 ---
Back to School Bash
The 8th Annual Back to School Bash returned to an in-person event and took place at the Kukui Grove Shopping Center. This year, volunteers from Kauai's Credit Unions and other organizations packed over 2,500 bags of school supplies to give away at the event. This community event is sponsored by over 20 businesses island wide and is aimed at providing much needed school supplies to students and their families at no cost. Along with school supplies, families attending the free event were treated to prize giveaways, live entertainment, keiki and youth resources and more!

---
2022 Scholarship Ceremony
We couldn't be more proud to put a big "Congratulations!" on blast to all of our graduating seniors. We believe deeply in supporting Kaua'i's Youth. One way we do that is with our scholarship Program.
Every year Gather awards up to 10 scholarships to high school seniors headed off to college. It's one (of many) ways we support our young people as they begin their new journey in life.


---
Kids Savings Project
As our community moves back to our normal routines, we were happy to welcome back our 'Ele'ele School Kids Savings Project students. At their last deposit day of the year, students took a field trip to our Waimea Office to make one final deposit before summer. They experienced doing a live transaction and got to see how going to the Credit Union isn't scary at all! Collectively, 'Ele'ele School Kids Savings Project Students saved over $19,000 this year! What a great way to end the year!

---
Gather Celebrates Youth Month
April is National Credit Union Youth Month. This years theme "Save Small. Dream Big with Your Credit Union." Kaua'i's Youth were encouraged to participate in a Creative Arts Contest showing us what they are saving for. Our winners drew pictures and even wrote an essay! 

---
Gather FCU Bank Bus Opens at Kanuikapono Panakō Hale
Kanuikapono Panakō Hale is now open for business! On March 30th, 2022 Gather FCU's Bank Bus Program and Kanuikapono Public Charter School held the Grand Opening and Blessing for its 5th program location. This location is our first that features a donated (decommissioned) Kaua'i Bus that was decorated with artwork from students at the school. One student in particular, Blaze, was the winner of the Panakō Hale logo contest in which he got to paint his logo onto the bus itself! It was a beautiful and successful day of teaching Financial Literacy!

---
1st Annual "Holiday Toy Drive"
Last December, Gather FCU held our first annual Holiday Toy Drive in partnership with Keiki O Ka Aina Kaua'i and KHON2's Laulima Giving Program. Together, we were all able to brighten the holidays for families on Kaua'i in need of presents for their keiki.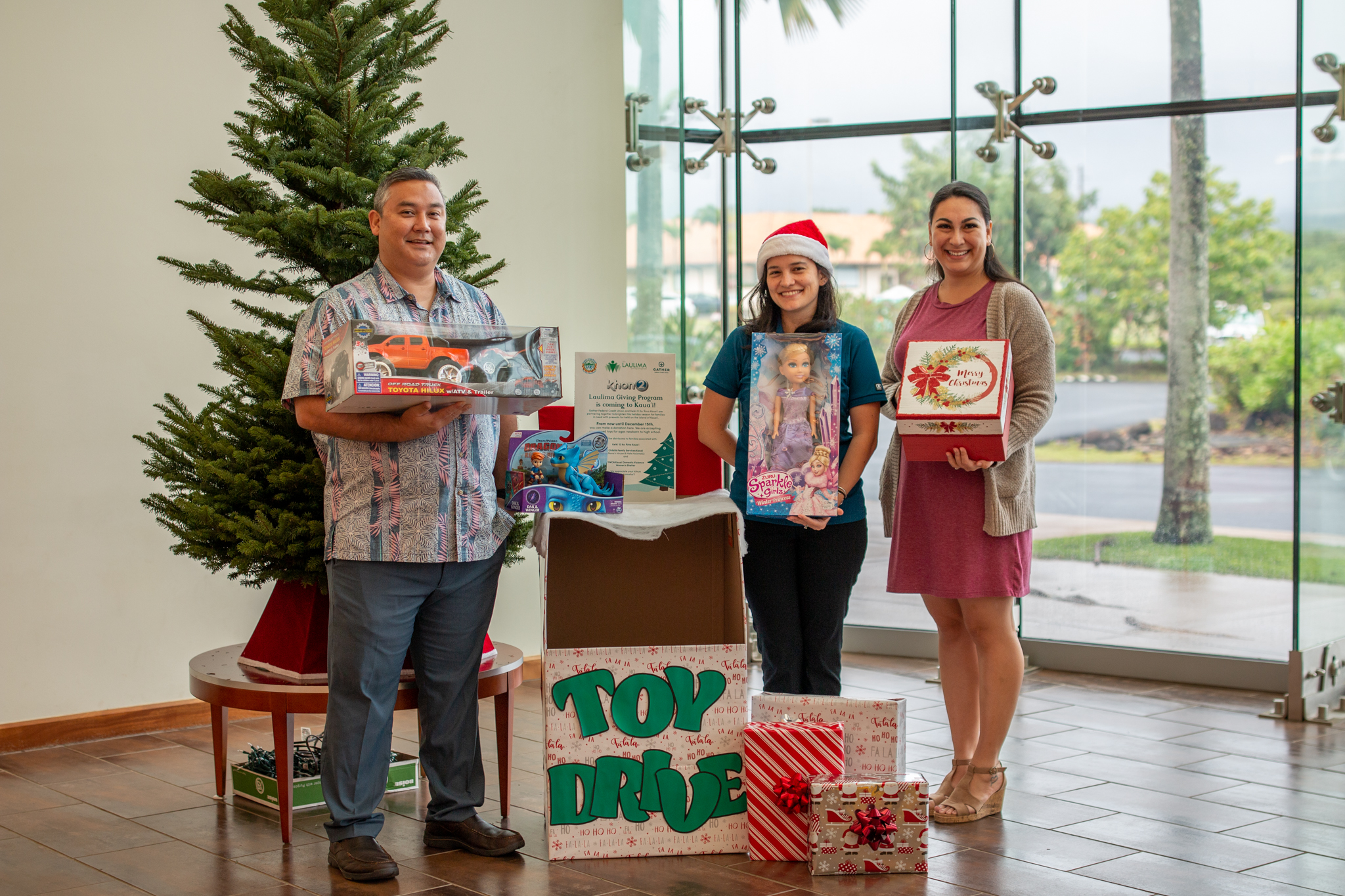 ---
Gather FCU Employees Rally for Donations
The Friends of the Children's Justice Center of Kaua'i's mission is to make a positive difference for our community's abused and neglected children. That was enough to inspire Gather FCU employees to rally together for donations, including school supplies, toiletries, toys and backpacks. The donations will help our keiki in need. You are welcome to pitch in, too. Learn more at www.kauaifcjc.org.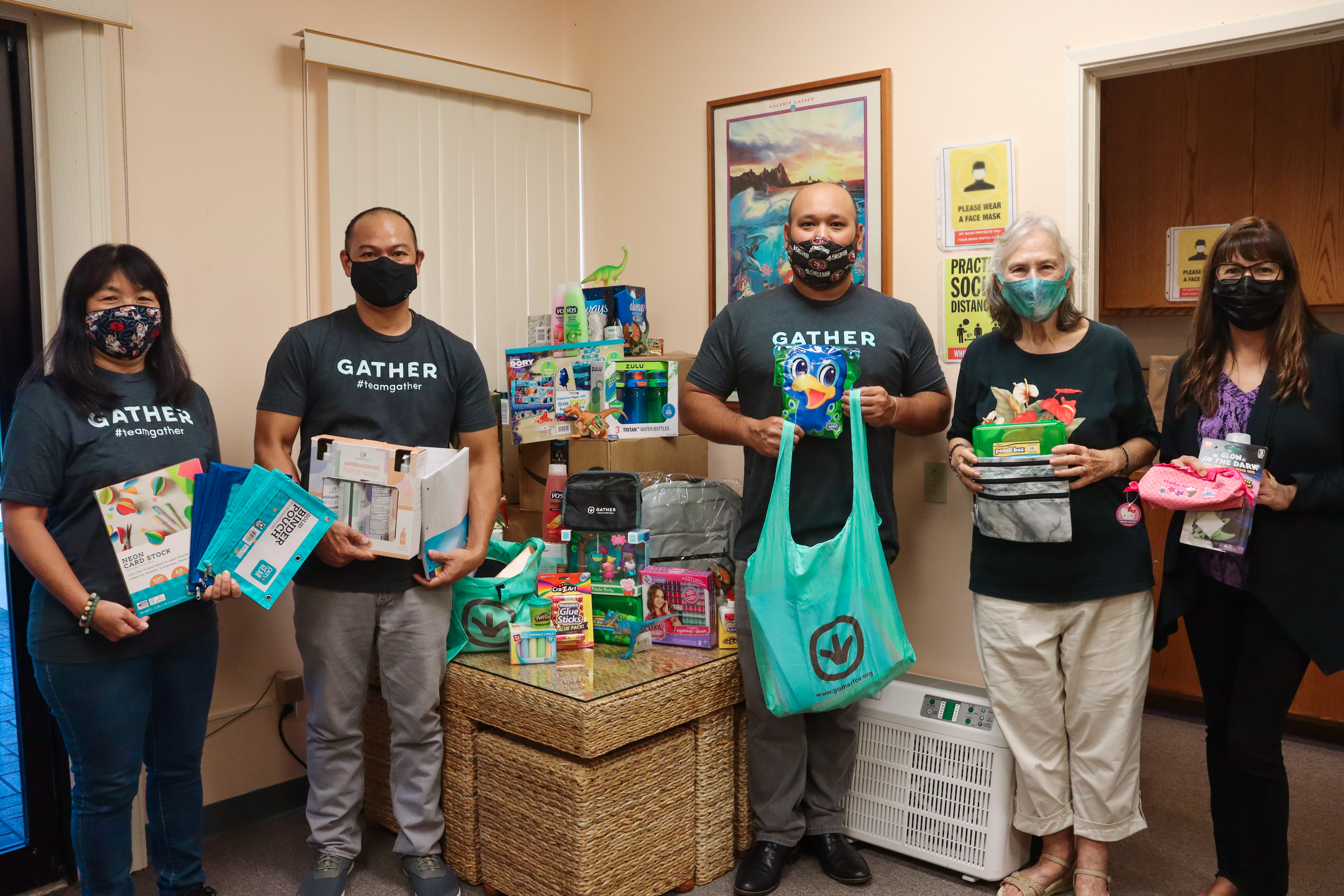 ---
Kauai Charity Walk Golf Tournament
In August of 2021, our Gather FCU volunteers were able to be a part of the KLTA 1st Annual Kauai Charity Walk Golf Tournament at Poipu Golf Course. Our volunteers assisted with handing out breakfast to all participating golfers.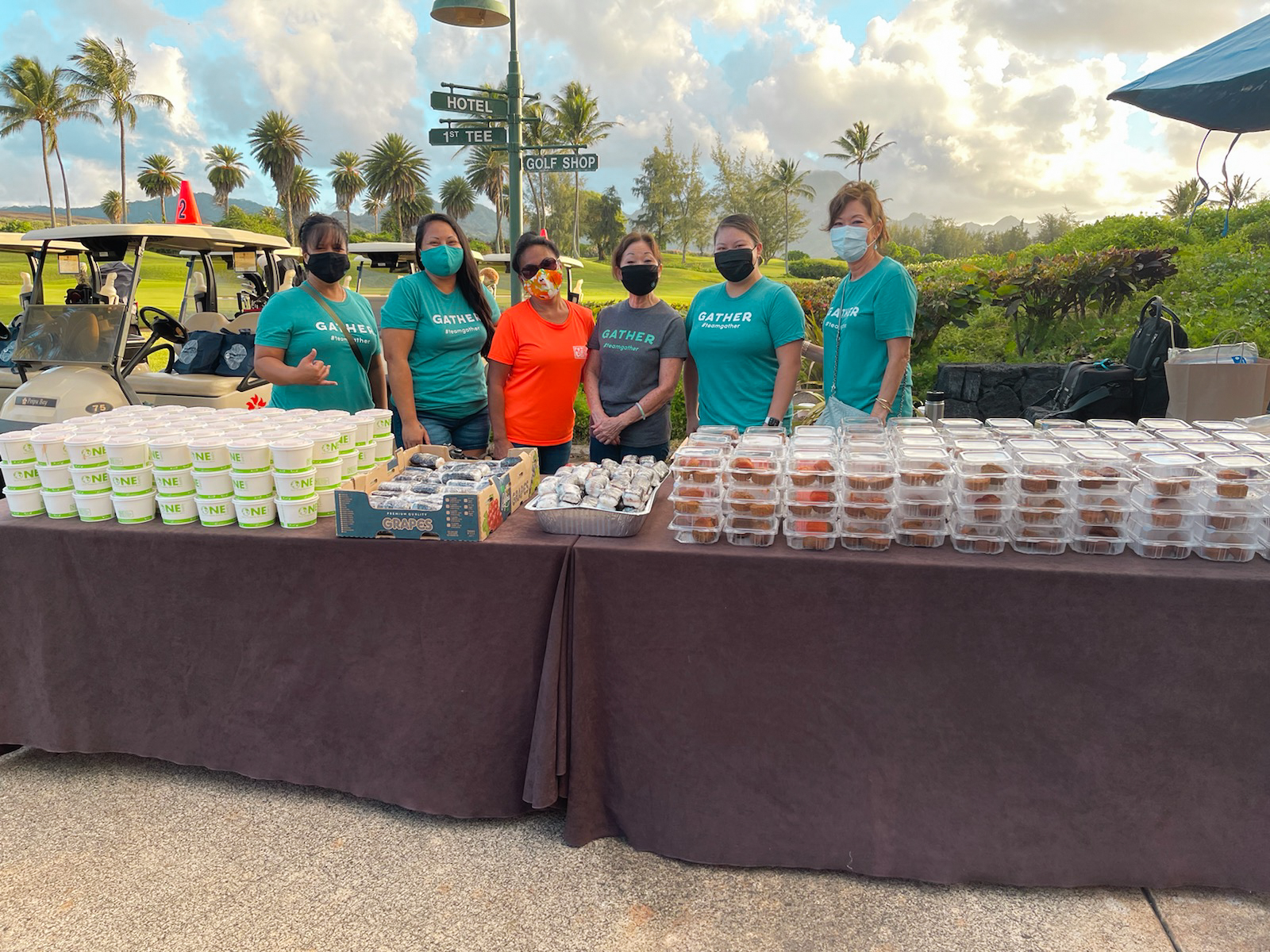 ---
Kilauea ATM Blessing
In celebration of our new ATM in Kilauea at the Anaina Hou Community Park, a blessing was held. We hope that our new ATM will bring more convenience to our North Shore Members who are awaiting the arrival of our Kilauea Branch. Members who joined us were able to learn what our ATM can do and enjoyed some light refreshments as well as giveaway items.

9th Annual Food Drive
The 9th annual Kaua'i's Credit Union Food Drive is one of Gather FCU's biggest fundraising events next to our Charity Golf Tournament. All proceeds go to the Kaua'i Independent Food Bank, helping out our families and those in need during the holidays. Funds also help restock the food bank after the school holiday break. Together we raised over $17,000. Thank you to everyone who participated. Learn more at www.kauaifoodbank.org.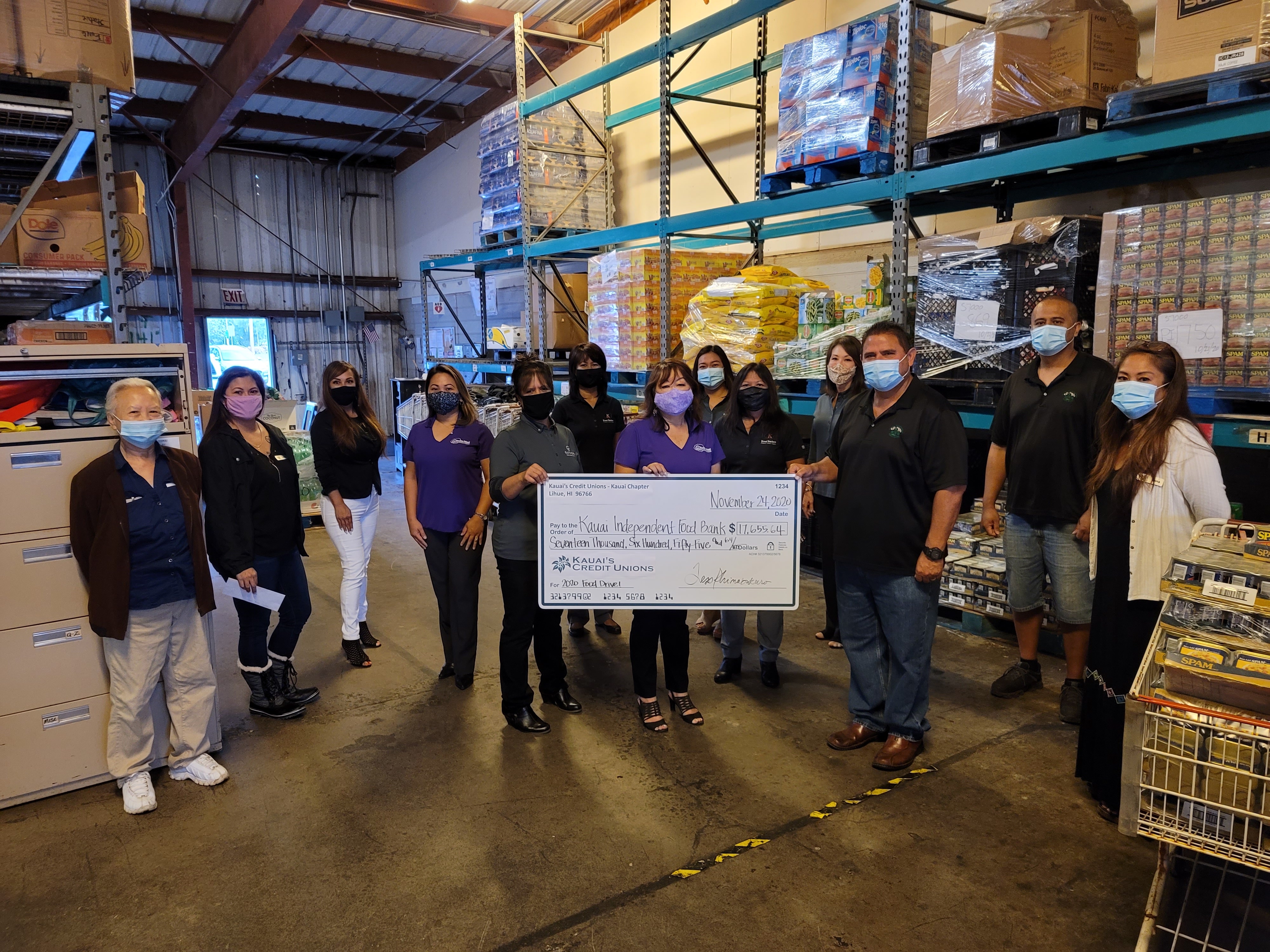 ---
Gather FCU Accepts the Challenge
Our Gather Team joined The Show Aloha Challenge which is a free food distribution hui that was launched on Oahu in response to the Coronavirus. Show Aloha's mission is to feed our kūpuna who have underlying conditions that put them at higher risk and have limited resources to meals and transportation. What an amazing experience. Our kūpuna were so very appreciative and happy to see us. Mahalo to all who participated and to all who supported the program through your t-shirt purchases.

---
Kaua'i Strong: Reopen Responsibly
We know our businesses are on the forefront of economic challenges, and we want you to know we got your back. We are rallying together for you. Support Local Businesses!
---
KIFB- Kaua'i Marriott Employee Food Drive
Kaua'i Marriott associates whom were been laid off or furloughed, received food packages and hot meals donated by the Kaua'i Independent Food Bank. A combined volunteer effort between Kaua'i's Credit Unions and other organizations made it possible to package and distribute more than 300 bags. The intent of the food packages is to feed not only the employee but their families.

---
Big Brothers Big Sisters Bowl for Kids Sake
The Bowl-for-Kids-Sake event is hosted by our Kaua'i's Big Brothers Big Sisters chapter. Proceeds from the annual bowling tournament go towards building and sustaining relationships with our islands keiki. As an annual sponsor Gather participates in the themed event and this year, won the Team Spirit Award.